Getting the COVID-19 vaccine is how we can all get back to life. And that includes the team here at Methodist Le Bonheur Healthcare. If it's been safe and effective for our staff who all got the vaccine months ago, the vaccine can also help you and your loved ones safely get back to the business of living. Take it from them:
"It's been about five months now since I got my second dose of the COVID-19 vaccine and I've really been feeling good."
- Samuel Riney, MD (Oncology)
"It's been seven months, and I feel great."
- Tangela Johnson, Manager (Laundry Services)
"All of my family members between the ages of 12 and 96 years old have been vaccinated."
- Cassandra Howard, MD (Vice President/Chief Medical Officer)
"It's a life-changing experience."
- Rajesh Kabra, MD (Cardiology)
"This summer my family and I were able to travel for the first time since the COVID-19 pandemic hit."
- Kelinda Ramsay, MD (Hospital Medicine)
"If you're pregnant or trying to conceive, I wanted to let you know that my baby daughter who is now six months old now is doing great."
- Hannah Goode, MBA (Senior Marketing Specialist)
"I got my COVID vaccine five months ago. At that time, my baby was two months old and I felt like it was a good idea to not only protect me, but protect him."
Cammie Cavette, RN (Labor and Delivery)
"It's been about five months and I feel fine. No side effects."
- Jessie Mason, Jr. (Senior Insurance Specialist)
"It helps me feel safer here at work."
- Ben Bowman, MD (Emergency Department Director)
"I feel really grateful because [the vaccine] allows me to meet with other vaccinated friends and family."
- Shirin Mazumder, MD (Infectious Disease)
"Let's all go and get the shot so that we can get back to doing things that we love."
- Samuel Riney, MD (Oncology)
"If you have not taken the vaccine, I would strongly urge you to do so."
- Rowena Adams, Director (Support Operations)
"It's the safe thing to do. It's a smart thing to do. Get vaccinated."
- Jeff Mullins, MD (Family Medicine)
"Why not get vaxxed, so you can relax?"
- Erica Ivey, Attendant (EVS)
With the new Delta variants circulating, getting vaccinated is more important now than ever before. It's normal to have questions about new treatments and vaccines – and for myths and mistruths to circulate when something new comes along. We want to get you informed, to arm you with the facts, and to assist in your decision to protect yourself and your family with a COVID-19 vaccine.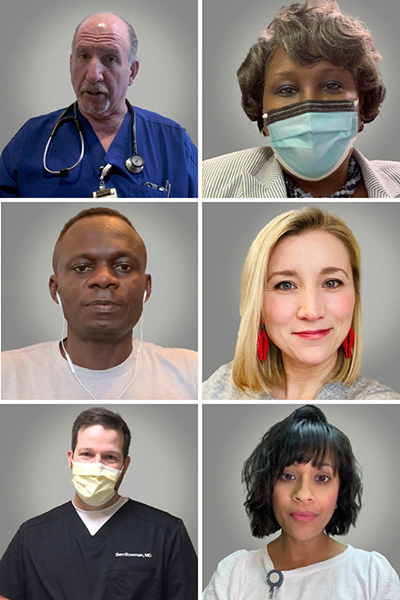 SUBSCRIBE TO OUR BLOG
and you'll receive more health & wellness tips right in your inbox.
SUBSCRIBE NOW
This is how we live.
Get the facts about the vaccine at methodisthealth.org/yourshot