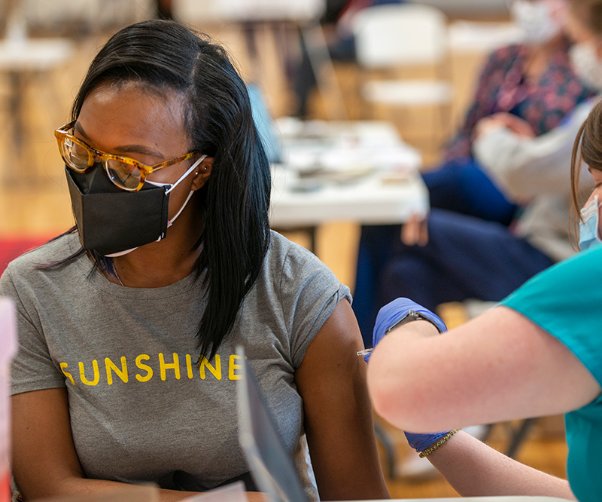 General Wellness
CDC guidance for people vaccinated from COVID-19: What's changed and what's stayed the same
COVID-19 vaccinations are being administered across the country in a phased rollout. Eligibility for the vaccine is changing week-by-week, state-by-state and county-by-county, leading to a growing population of those who have received the vaccine.
People who are fully vaccinated are left with questions – "When can life get back to normal?" "Who can I safely visit?"
Have questions about the COVID-19 vaccine and who is eligible?
See who is eligible and read facts about the Johnson & Johnson, Moderna and Pfizer vaccines in our COVID-19 Vaccine Resource Center.
On March 8, the Centers for Disease Control (CDC) released new guidance for people who have been fully vaccinated against the novel coronavirus. Before discussing the updated guidance, there are a couple of other factors to keep in mind.
Why get vaccinated against COVID-19?
The COVID-19 vaccines protect you from getting sick with the novel coronavirus.
The Pfizer and Moderna vaccines were found to be 94 and 95% effective against mild-to-moderate cases of coronavirus. The Johnson & Johnson vaccine was 72% effective in the United States at preventing moderate illness.
While the overall ability of each vaccine to reduce the risk of mild-to-moderate coronavirus infection may vary, all three vaccines were equally effective (100%) in clinical trials at preventing hospitalizations and death from coronavirus, which is the most important marker we have for assessing efficacy.
What does it mean to be fully vaccinated from COVID-19?
You are not considered "fully vaccinated" the moment you get your single shot of the Johnson & Johnson vaccine or the second shot of the Moderna or Pfizer vaccine.
People are considered fully vaccinated two weeks after their final dose of the vaccine, according to the CDC.
SUBSCRIBE TO OUR BLOG
and you'll receive more health & wellness tips right in your inbox.
SUBSCRIBE NOW
What guidance has changed?
People who have been fully vaccinated can now:
Gather indoors with other fully vaccinated people without wearing a mask.
Gather indoors with unvaccinated people from one other household without wearing masks, unless someone in that household is high-risk for severe illness from COVID-19. An example of this would be visiting a segment of family members or friends who all live together under the same roof.
You do not need to isolate or get tested for COVID-19 if you have been around someone who has tested positive for the virus, unless you develop symptoms. An exception to this change in guidance would be if you live in a group setting, like a group home or detention facility.
What guidance hasn't changed?
Even if you've been fully vaccinated, you should still practice safety protocols in many situations. This means you should still wear a mask and socially distance yourself in the following situations:
Out in public
Gathering with unvaccinated people from more than one household
Visiting an unvaccinated person who is high-risk for severe illness or death from COVID-19
The CDC also advises people who are fully vaccinated to continue to avoid large gatherings and to limit/delay domestic or international travel. In cases where you do travel, follow the agency's recommendations.
We are learning more about COVID-19 vaccines every day. It is important to remain diligent and follow safety protocols, as established by health professionals, as we work our way through the pandemic.
Have questions about the COVID-19 vaccine?
Your health is our priority, and we've created a COVID-19 Vaccine Resource Center to keep you informed.
Find out if you're eligible to receive the vaccine and get answers to commonly asked questions.