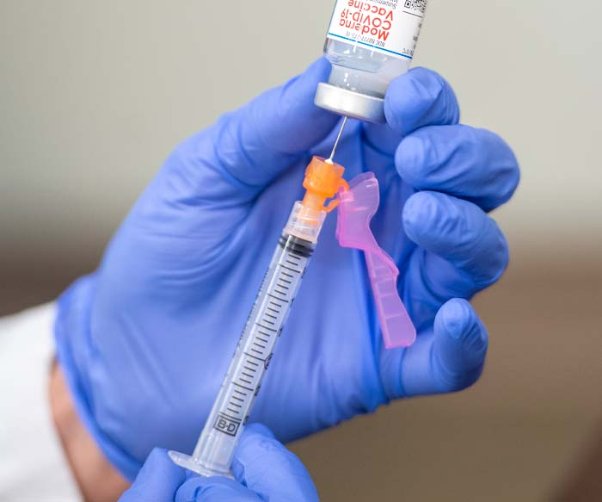 General Wellness
Colin Powell's Death Doesn't Discredit the COVID-19 Vaccine – Nor Does It Change the Choice We Have.
Former U.S. Secretary of State Colin Powell, who passed away October 18 at the age of 84, often occupied the headlines throughout his storied career in public life. Whatever your political opinions, there was no denying that Secretary Powell was a history maker: Until the historic election of Barack Obama as President in 2008, Secretary Powell and his colleague Condoleezza Rice were the highest-ranking African Americans to hold federal cabinet positions.
By all accounts, Secretary Powell was a dedicated and loyal friend, a committed family man, and a leader of bravery and deep, generous wisdom. Methodist Le Bonheur Healthcare extends our condolences to his loved ones and all those who mourn him.
We're holding Secretary Powell's wisdom especially close right now. In 1989, he shared a list of 13 rules for leaders as part of a magazine profile, a list that has since been drawn on from C-suites to living rooms in moments of challenge, change and pain.
For a country still in the grips of the COVID-19 pandemic, two of his rules stand out. The first is, it can be done. And the second is, be careful what you choose. You may get it.
First, to address something on nearly everyone's mind, Colin Powell's death does not discredit the COVID-19 vaccine. We are concerned and dismayed by the emergence and spread of this narrative, which lacks crucial context.
We should note that no one at Methodist Le Bonheur Healthcare was part of Secretary Powell's care team. But the observations that follow are made based on core facts of the conditions he had.
At the time of his death, Secretary Powell was being treated for multiple myeloma, a type of cancer that forms in plasma cells, which normally help the body fight infections by generating antibodies that can recognize and attack invading germs. This, combined with complications of Parkinson's disease, a serious condition of the central nervous system, made Secretary Powell immunocompromised, placing him at much greater risk of COVID-19. In the case of Parkinson's, there is already evidence to suggest that its impact on both motor and non-motor symptoms was worsened by the virus.
Secretary Powell did receive both shots of a COVID-19 vaccine. He was also scheduled to receive a booster the week he died, though severe illness made this impossible.
Still, his breakthrough case is not an indictment of the vaccines' efficacy. As Methodist Le Bonheur Healthcare infectious disease specialist Dr. Shrin A. Mazumder shared with Action News 5 on October 18, while such breakthrough cases are relatively uncommon, seriously immunocompromised people may not mount a sufficient response to the virus if and when they do become infected. "This," she added, "is why it is important for those people to be surrounded by fully vaccinated people so that the risk of transmission is lower." And while we may be on the downward part of the slope in the latest spike in cases, a very clear risk remains of yet another variant of the virus emerging. Stopping this from happening is in our hands – or better said, our arms.
It can be done. And for us, this should be rule number one. Cancer patients like Secretary Powell are, sadly, frequently represented among our vaccinated COVID inpatients, and there is a clear reason why. One study showed that 46% of patients with blood cancers did not develop detectable antibodies in response to the SARS-CoV-2 spike protein following their first vaccine dose. With this in mind, we can choose to protect both ourselves and our neighbors, especially those among us who are the least physically capable of fighting off an infection.
The vaccines are safe and effective. And for those who are eligible for them, booster shots add an additional layer of this protection. But not even half of Tennesseans are fully vaccinated, and in the Memphis region, the number is even less. Outside of pre-existing medical conditions, suitable reasons for not getting vaccinated are fewer and far between. The only medical conditions valid to avoid vaccination are related to allergic reactions. According to the Centers for Disease Control and Prevention, the only contraindications to the vaccine are the following: severe allergic reaction after a previous dose or component of the vaccine; immediate allergic reaction to a previous vaccine dose; or a known allergy to a vaccine component.
Many people resistant to getting vaccinated frame it as a matter of individual choice. But this is where the second rule comes into play: Be careful what you choose. Opting out of receiving the vaccine, and foregoing the opportunity to talk with your doctor about your worries and concerns if this is what it takes, is irresponsible and potentially deadly. If what we're looking for is continued infections and deaths, including in children, and the immunocompromised, we may get it.
Choices do matter. And individuals can make a difference with them. Perhaps these are the greatest lessons to learn from Secretary Colin Powell's life, as much as his death.
SUBSCRIBE TO OUR BLOG
and you'll receive more health & wellness tips right in your inbox.
SUBSCRIBE NOW