Denisea Cartwright's 2021 Father's Day gift to her dad, Robert Cartwright, arrived a couple months early, but neither minded because it was truly a one-of-a-kind gift of love.
And life.
After months of tests and preparation, Robert received a liver transplant from Denisea during a 12-hour procedure at Methodist University Hospital, performed by a medical team led by Dr. James D. Eason, MD. The successful surgery offered Robert a chance for a bright, healthy future that he'd all but given up on.
"The funny thing was, I never felt like I was sick. My gastroenterologist ran some tests when I went in for a check-up and discovered that I had a tumor on my liver. I was put on a donor list, but sometimes that can take a while and I didn't know if they'd ever be able to find a match for me."
Fortunately for Robert, a friend suggested that he reach out to his daughter to see if she might be a match. Reluctant at first, Robert said he didn't want Denisea to feel obligated to get tested to determine if she could be a donor. However, his friend urged Robert to allow Denisea to have a voice in the matter. When asked if she'd consider undergoing the tests, she immediately said yes.
"It was a shock when I heard the news because he just didn't seem sick and was enjoying his life," Denisea said. "We almost lost him before and I knew that I would do anything to make sure he has a long and healthy life."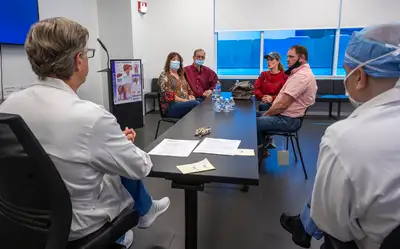 The daughter-to-father liver transplant surgery could prove challenging because a female liver is smaller than a male liver, Dr. Eason said. Because the transplant recipient will receive about 60 percent of a donor's liver, that factor had to be taken into consideration when determining if the procedure was viable.
Fortunately for the Cartwrights, relatives who are a blood match are often better donors due to a lower possibility that the recipient's body will reject the organ. And although the donor gives up the majority of the liver, the organ regenerates itself.
"The liver in both the donor and the recipient will regenerate and reach full size in about three months," said Dr. Eason, who is Program Director of the James D. Eason Transplant Institute at Methodist University Hospital in partnership with University of Tennessee Health Science Center. "Both parties undergo extensive evaluations because we must ensure that the surgery will benefit the recipient and not do damage to the donor."
SUBSCRIBE TO OUR BLOG
and you'll receive more health & wellness tips right in your inbox.
SUBSCRIBE NOW
The transplant institute performs more than 120 liver and more than 140 kidney transplants each year with dedicated teams of medical personnel assisting in the procedure. Dr. Eason, who has performed some 2,000 liver transplants in his career, said the procedure offers miraculous results.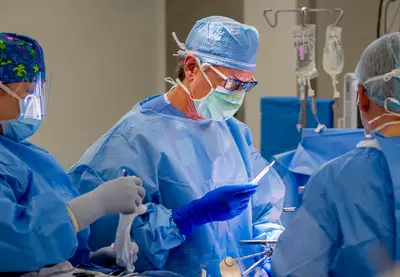 "About 25 percent of liver transplant recipients have cancer and we consider the transplant to be a cure for that," Dr. Eason said. "This is truly a team effort and we all work together to make it happen. We're proud that Memphis has this state-of-the-art facility, which is unrivaled across the nation. We are highly proficient, and offer the only program in the Southeast to do this procedure to any degree."
For the Cartwright family, the life-saving surgery has been an answer to their prayers. Robert and Denisea offered enthusiastic praise for the entire Methodist family and said they'd grown close to so many medical workers who gave them comfort and hope.
"I told my dad that I wanted to be tested and I wanted to do this for him. I told him it was important to me because I wanted to make sure that we had time with each other to make more happy memories," Denisea said. "I'm been a big supporter of organ donation and I've always checked the box on my driver's license agreeing to donate my organs. Being able to do this for my dad and knowing that he's going to be okay is worth everything to me."
Robert Cartwright agreed.
"I really don't know what else to say except that I'm the luckiest man in the world," he said. "I've got a wonderful daughter who's willing to do this for me and the best doctor and medical team in the world to make it happen. I'm blessed."
Want to learn more about organ donation?
The James D. Eason Transplant Institute offers specialized care for patients, focusing on their individual medical, financial, social and educational needs.