If you're looking to improve your mental and emotional well-being, setting boundaries is a crucial step. The topic of boundaries is widely discussed in counseling, and for good reason - they are necessary for maintaining healthy relationships and promoting self-care. While boundaries may vary depending on the person or setting, they are created to set limits and are essential for healthy relationships. In this article, we will discuss the importance of boundary-setting and offer practical tips to help you establish healthy boundaries in your own life.


How to Set Your Boundaries
Begin by reflecting on how you want to focus your boundary-setting skills. Consider your values and what brings meaning and purpose to your life.
Here are some questions to guide this reflection:
What is causing me stress or discomfort right now?
What do I look forward to every day?
What do I dread each day?
Who or what gives me energy?
Who or what drains me?
Who or what makes me feel safe, supported, and valued?
Who or what makes me feel unsafe, unsupported and devalued?
SUBSCRIBE TO OUR BLOG
and you'll receive more health & wellness tips right in your inbox.
SUBSCRIBE NOW
Practice Boundary Setting
Once you identify the boundaries you want to set, it is time to communicate them to others. This can feel awkward or uncomfortable at first, but it does become more comfortable with practice. Begin with a willingness to say "No" more often. As a colleague frequently reminds me, "No is a complete sentence."
Here are some other phrases to practice when saying no can set a healthy boundary:
"Please do not …"
"I can't do that for you."
"This is not acceptable."
"I don't want to do that."
Another essential part of healthy boundary setting is communicating what we want and need. This can also be difficult at first. Practicing some of these phrases can help:
"I'm more comfortable with …"
"This is what is best for me …"
"I want to …"
"I can only do this/meet/talk on …"
"I've decided that …"
Begin Your Journey to a Healthier You
Sometimes setting these limits can leave us feeling guilty or selfish. It is important to remember that healthy boundaries encourage positive relationships over time, allowing for less stress and more positive outcomes. And remember that while we are responsible for setting and communicating the boundaries that are important to us, we must also be mindful of honoring the boundaries for other people in our lives.
Are you ready to set boundaries but need help figuring out where to start?
Contact the Methodist Le Bonheur Healthcare Employee Assistance Program (EAP) at 901-683-5658 to begin your journey.
---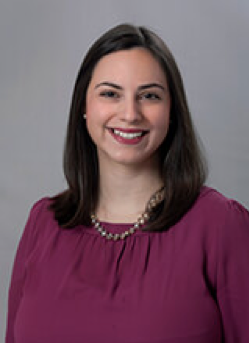 Alice White, LCSW
Counselor
Alice White is a Licensed Clinical Social Worker (LCSW) and a Certified Employee Assistance Profession who has experience working with clients with anxiety, depression and crisis situations. She earned her Bachelor's and Master's degrees in Social Work from the University of Southern Mississippi. Alice is a native Memphian who began her career in Memphis at Youth Villages. Alice is currently licensed in Tennessee, Mississippi, and Arkansas. In her spare time, she enjoys taking her dog on walks, reading, and going to concerts.