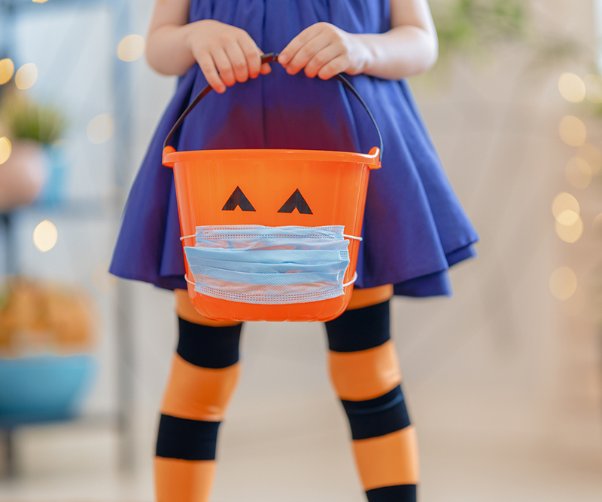 General Wellness
Is it safe to trick-or-treat? Here's some quick tips to keep you safe this Halloween
Halloween is a time-honored tradition for many families. Children love to dress up in costumes and go trick-or-treating — and parents enjoy seeing their kids have so much fun (and sneaking candy here and there after it's all done).
Like many other things in 2020, the COVID-19 pandemic forces us to look at Halloween with a different lens this year. Some traditional ghoulish activities, like trick-or-treating or passing out candy, can increase the risk of contracting or spreading the virus. The safest option is to consider other alternatives including:
Decorating your home and carving pumpkins with members of your household.
Walking around your neighborhood and looking at other families' Halloween decorations and pumpkins from a distance.
Simulating trick-or-treating by hiding treats around your house and holding a "treat hunt" with members of your household.
Participating in a small outdoor costume parade or contest in your neighborhood where everyone can show off their costumes while remaining socially distant.
---
If you do decide to hand out treats:
Carefully avoid direct contact with trick-or-treaters.
Stay outside when passing out treats.
Wash your hands before handing out treats and use hand sanitizer frequently.
Wear a cloth or medical-grade face mask.
Create a "treat chute" out of PVC pipe or other materials to slide candy to the trick-or-treaters.
Maintain crowd control and don't allow visitors to congregate at your front door.
SUBSCRIBE TO OUR BLOG
and you'll receive more health & wellness tips right in your inbox.
SUBSCRIBE NOW
When dressing up:
Wear a cloth or medical-grade mask. A costume mask is not a substitute for a cloth or medical-grade face mask. Painting your face and wearing a face mask is a better alternative than a costume mask.
DO NOT wear a costume mask over a cloth mask. It can make breathing more difficult and is not safe.
Make the cloth mask part of your costume. Color coordinate a cloth mask so it matches the rest of the costume. You can be creative and safe at the same time.
If you decide to trick-or-treat:
Stay at least 6-feet way from other trick-or-treaters and/or groups who don't live with you.
Clean your hands frequently. Bring hand sanitizer with you and use it after getting treats from house-to-house.
Once you get home, wash your hands for at least 20 seconds with soap and water.
Once arriving home, allow the treats gathered during trick-or-treating to sit in a separate bag (grocery, plastic, etc.) for three days. To help keep your little ones happy, we suggest having a prepared bag of candy that only you have handled for a treat to tide them over.
Keep these same tips in mind when participating in trunk or treat events and other similar festivities.
Always check local regulations:
The Shelby County Health Department, as well as local municipalities, have issued their own guidelines for Halloween festivities. Be sure to check with your local officials to ensure your activities are allowed.
Festivals, fairs and other large-scale events are not permitted under the current health directives from the Shelby County Health Department.
For more ideas and helpful tips, visit the Centers for Disease Control or the Shelby County Health Department.