Posted: September 29, 2021
For the last decade, sickle cell patient Terrell Sellers has been treated at Methodist Comprehensive Sickle Cell Center. During that time, thanks to the expert care of devoted and caring medical workers, Terrell has overcome numerous challenges that threatened his physical and mental well-being.
Today, Terrell hopes to be an inspiration to other patients like himself who can become overwhelmed by their circumstances and feel like giving up. For Terrell, the keys are his strong faith in God and the dedicated doctors and nurses at Methodist Le Bonheur Healthcare who help keep him healthy.
"God has just been all over my life. I take no credit, but give Him glory and praise. I just do my part as a human being and try to let Him guide me," Terrell said.
Terrell credits his faith for giving him strength to face the challenges related to his sickle cell disease diagnosis. That faith was vital to his recovery nearly a decade ago when he suffered several setbacks following emergency surgery.
"I was hospitalized in 2012 because I couldn't keep anything down. No water, no Gatorade, nothing. As it turned out, I had gallstones and had to undergo emergency surgery to have my gall bladder removed," Terrell said. "Then it seemed to be one thing after another like a domino effect. I had to have my tonsils removed, then I caught pneumonia. Having sickle cell can be a trigger for other illnesses, and that's why patients have to be so careful and try to stay healthy. I do my best to take care of myself and stay out of the hospital, because I know that if I go in to be treated for one thing, I'm in danger of catching something else and getting even sicker."
Sickle cell disease, which is a genetic red blood cell disorder, occurs when red blood cells become hard and sticky and assume a C-shape or "sickle" form. These cells can constrict blood flow as they travel through blood vessels, causing pain and making patients vulnerable to increased rates of infection, acute chest syndrome and stroke.
The disease is more common in ethnic groups such as African Americans, who have a one in 12 chance of carrying the gene that causes the disease. Sickle cell is also more common in Hispanic Americans, people from Central and South America, and those of Asian, Indian, Mediterranean and Middle Eastern descent.
SUBSCRIBE TO OUR BLOG
and you'll receive more health & wellness tips right in your inbox.
SUBSCRIBE NOW
For Terrell, learning how to live with his condition and managing it to keep as healthy as possible has been vitally important. He credits the care team at Methodist Comprehensive Sickle Cell Center for helping him focus on wellness instead of becoming depressed about his condition.
"The people at Methodist Le Bonheur Healthcare have been a blessing. They've saved me from having to being admitted to the hospital a lot of times so that I could work when I'm able to, and they've taught me the importance of taking care of myself and taking my medication every day. If you do what they ask you to do and then maybe a little bit extra on your part, everything will work out and you'll be a firebrand," Terrell said. "I'm a living testimony. I try to eat healthy and drink plenty of water. The people at Methodist Le Bonheur Healthcare treat me like family and take care of everything. They're a blessing."
Terrell also credits the Methodist Le Bonheur Healthcare team for taking exemplary care of him when he came down with COVID-19 last year.
"I was so sick when I got it. I went to the emergency room and was admitted that night," Terrell said. "Fortunately, all I needed was one unit of a blood transfusion and then was able to go home the next day. After a couple of weeks, I went back and got re-tested and it was negative. So, I beat it. By the grace of God, I beat it."
Terrell encourages others who live with sickle cell to listen to their doctors and take care of their bodies.
"Drink plenty of water and always take your medication. That's very important to help you stay healthy," Terrell said. "It's also important to exercise, even if you don't feel like it. I tell people all the time that as a sickle cell patient you may want to stay in bed and sleep, but you need to get up and stretch. Even if it's only for 10 or 15 minutes at a time, do it. Even a little bit makes a big difference."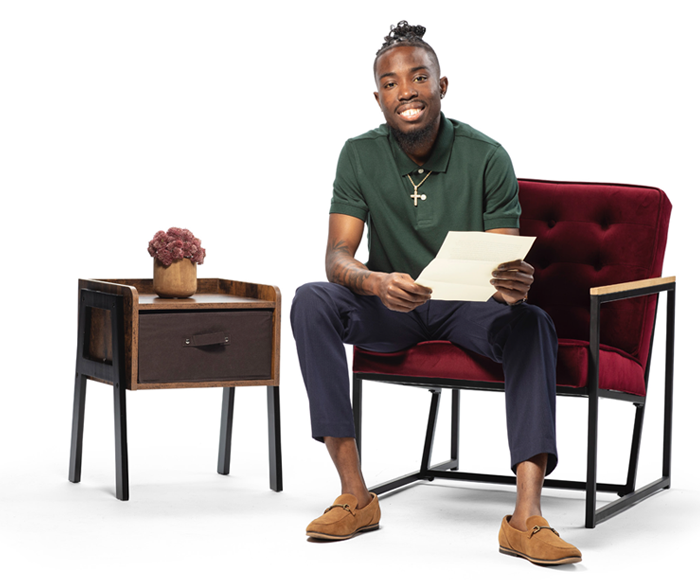 How You Can Help
The difference is you – and here's what you can do:
Learn more about the Methodist Comprehensive Sickle Cell Center
If you'd like more information about becoming a patient call 901.516.8785 or 901.516.8188.