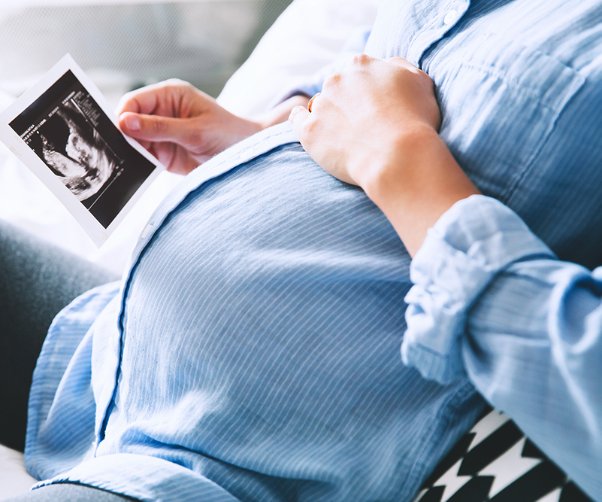 Women's Health
Pregnancy and COVID-19: Answering questions about what's changed and what you can do to prepare for childbirth
Your Health Live is a monthly, interactive discussion presented by Methodist Le Bonheur Healthcare on Facebook Live.
The subject of our live conversation changes each month, and the conversation is guided by a panel of experts within the given field.
In this edition of Your Health Live, our experts — who specialize in maternity services and women's health — discussed all things maternity and how it has changed during the COVID-19 pandemic.
Our panelists for this edition were:
Ja'Larna Grant, MD
OBGYN Physician
Methodist Olive Branch Hospital
Shaska Graham, MSN, RNC-OB
Women's Health Specialist
Methodist Le Bonheur Germantown Hospital
Michelle Harrison, MSN, MBAHCM, RNC
Clinical Director for Maternity Services
Methodist South Hospital
You can watch a recording of the discussion below, or continue scrolling to see the questions and answers in text format.
What are signs of postpartum anxiety and depression? What should mothers do if they suspect they have either of those conditions?
There are post-partum blues, post-partum depression and post-partum psychosis.
Post-partum blues can be normally associated with pregnancy and motherhood and should wane within a couple of weeks of labor.
The other two conditions should be addressed with professional help. As with other health conditions, a history of depression or anxiety can be a precursor for them to occur during pregnancy.
If you are experiencing insomnia, impaired by fatigue, having thoughts of harming yourself, your baby or others, or having suicidal or homicidal thoughts, reach out for professional care — even if it is before an upcoming scheduled visit with your care provider. It is important to get ahead while it is easiest and more effective to intervene.
Counseling and other forms of support may be helpful.
In the event that medications are needed to manage the condition, there are antidepressant medications that are safe for pregnant or breastfeeding mothers.
---
How is giving birth different/the same during the COVID-19 pandemic?
In a lot of ways, it is the same. The pandemic hasn't changed the birthing process. We will still be there to support you and help your loved ones support you.
What has changed is visitation and how many people can be in the room with you during your birth. There have also been some additional polices/changes.
All of our mothers and support persons are required to wear masks
Mothers will have to have a COVID-19 test before giving birth.
Our goal is still to have a healthy delivery and healthy pregnancy. We are still going to encourage you to have your baby in the room with you, encourage you to breast feed and promote skin to skin contact.
---
What advice can you give expectant mothers who will be delivering during the pandemic?
We know that this environment wasn't how you planned on having a baby. We ask you to come in with an open mind.
We've gotten lots of feedback from mothers who have delivered in the midst of this pandemic, and they said that they actually really enjoyed this time bonding with their significant other and their baby and without other interruptions.
Keep in mind that despite the compromises, the main goal is still to birth a healthy baby.
---
How do we support mothers who are COVID-19 positive while they are in the hospital?
We give them as much attention as we can. We try to give you one-on-one care because we know that being a COVID-19 positive mother is an especially challenging situation.
We also encourage video calls with those outside of the facility to keep them informed and keep your spirits up.
---
What are red flags that could signal issues during pregnancy?
You are likely to experience a number of peculiar things during your pregnancy, and most of them are considered normal. However, you should be an advocate for yourself and continue to communicate anything that you feel could be wrong. Be educated on your baselines and trends of what's normal for your body.
Here are some specific instances you should watch for:
Contractions lasting four to five minutes in frequency and of increasing intensity.
Gushing of fluid, regardless of point in pregnancy.
Vaginal bleeding may happen in the form of spotting, but it can be considered normal as long as ultrasounds are reassuring. However, you should not have heavy bleeding with clots passing. If you have questions, consult your doctor.
High blood pressure can be a red flag, especially when accompanied by headaches with blurry vision.
While swelling in the lower extremities is normal, when combined with headaches and blurry vision, it can be seen as a warning sign. Additionally, swelling in one leg and not the other can a be sign of blood clot.
A decrease in the baby's activity or responsiveness while in the womb can be a red flag. However, note that in the later stages of pregnancy babies can't move as much because there isn't as much room due to their larger size.
Complications can also come up after pregnancy too. If you seek medical attention post-partum, inform the provider that you have recently delivered. Although you may have had a normal pregnancy, issues can still arise afterward.
---
When should you start taking your own blood pressure?
You should have your pressure read during every doctor's visit. If you have a history of hypertension or high blood pressure, or you are noticing symptoms, you should monitor your blood pressure between visit independently.
SUBSCRIBE TO OUR BLOG
and you'll receive more health & wellness tips right in your inbox.
SUBSCRIBE NOW
What factors can predispose mothers and infants to complications during pregnancy?
Your ethnicity and race are factors to consider — along with having history of chronic illnesses like hypertension and diabetes. These factors can predispose you to pregnancy complications.
Complications and the emergence of gestational diabetes can be made less likely by eating a healthy, balanced diet and exercising — as your body permits — before and during your pregnancy.
Another factor to consider is whether or not you had complications with a previous pregnancy.
---
How do maternal risk factors vary across communities, ethnicities, etc.?
The United States has a high maternal mortality rate compared to other countries, but African American women are at an even higher risk.
In Tennessee, African American women are three times more likely to have pregnancy complications than white women. They are also three or more times more likely to die during pregnancy.
The higher risk that African American and Hispanic women have for hypertension and diabetes can contribute to this. These women also have higher risk of preterm birth and miscarriages.
Take charge of your health and know your risk factors. Not everything is genetic, but things can run in the family, so know your history. Seek early prenatal care and regular medical care before pregnancy to improve your chances for a healthy pregnancy.
---
What tips do you provide mothers about lactation?
Deciding how you feed your baby is a significant decision. We encourage breastfeeding, but we also understand that it is not the right choice for every mother. We fully support your decision to breastfeed or formula feed, and we will give you resources for either during your stay in the hospital.
If you are wanting to breastfeed, educate yourself with breastfeeding classes and build yourself a support system ahead of time. We also have some outpatient services that can be of support after you have a baby.
---
Do lactation tea and cookies help?
The best thing to do is making sure you're staying hydrated. Some patients seem to respond well to these aids as a boost, but if you are having issues we suggest that you contact a lactation consultant because we want to make sure that the baby is latching and feeding well. You want to be sure to rely on a professional that has been trained to assess this situation.
---
What should be factored into the decision between formula vs breastfeeding?
The American Academy of Pediatrics recommends breast milk as the best source of nutrition for all babies in their first year of life. It cites documented short and long-term medical and neuro-developmental advantages of breastfeeding.
It is important to note that breastfeeding in the first few weeks can be difficult for some mothers, but it can become easier over time. In some cases, it can even become easier than formula feeding.
However, it is important to once again remember that everyone is different, and there is not a standard right or wrong choice.
---
What resources does MLH offer to expectant mothers?
We offer a wide range of services and educations resources, but they look a bit different in the socially distanced world of COVID-19. Learn more about our childbirth classes.
---
What can hopeful mothers do now to ensure a healthy pregnancy?
To have a healthy pregnancy, we need a healthy mama. The best thing for a mom to do before she gets pregnant is to make sure she is healthy. She can do that by going to her regularly scheduled medical visits.
Abiding by basic health principles, such as maintaining a healthy weight, eating a healthy diet, exercising, and avoiding alcohol, smoking and drugs is also important.
If you have any chronic health problems, take care of those.
Overall, be the healthiest person you can be. Being healthy will help you get pregnant, have a healthy pregnancy and birth a healthy baby.
---
What advice can we give to first time moms?
Being a mom is wonderful, but it can be challenging.
Build your support team of mothers and others that you know. Be receptive to accepting help. Educating yourself about the whole process will help calm your fears. Ask questions and enjoy the process.
Every pregnancy is different, so take each day and enjoy it. Talk to other moms so that you can vent and relate and learn from experiences.
---
How can my partner be helpful?
Your partner should work to be as educated as possible too. They should come into labor and delivery knowing how they can assist — along with knowing about the mother and her needs and preferences.
Have conversations so the partner knows what mama wants/needs ahead of time.
Partner, be a part of the process and also ask questions to the healthcare provider along the way. Make sure that you keep up with questions that you and the mother have had outside of doctor's visits. They can be easy to forget. You know the mother more than the doctors, so be on the lookout for concerns and be an advocate for her.
Have questions about the COVID-19 vaccine?
Your health is our priority, and we've created a COVID-19 Vaccine Resource Center to keep you informed.
Find out if you're eligible to receive the vaccine and get answers to commonly asked questions.