For patients suffering from chronic wounds, hard-to-heal wounds or poor circulation resulting from chronic health problems, the need for help is very real.
At the Wound Healing and Limb Preservation Centers at Methodist North Hospital, we work with patients facing those issues. Our main goal is to treat them and help return them to health. We also want to reduce the number of amputations by educating patients about available treatment options.


Peripheral Artery Disease (PAD)
One condition that can lead to amputation is peripheral artery disease (PAD). According to the Centers for Disease Control and Prevention, 8.5 million Americans suffer from PAD, a common circulatory problem in which narrowed arteries reduce blood flow to the limbs. Treating patients with PAD is a major focus at the Limb Preservation Center.
When a patient develops PAD, the extremities (usually the legs) don't receive enough blood flow to keep up with demand. PAD is the leading cause of amputation, and people with diabetes are at higher risk of developing PAD.
In fact, over half of the people with diabetes who have lower extremity amputation will require an amputation of the second leg within two to three years.
In Shelby County, the number of people living with diabetes, 12 percent, exceeds the national average of seven percent. Shelby County also exceeds the national average of between 12 to 20 percent of people over the age of 60 who suffer from PAD.
PAD isn't the only condition that can lead to limb loss. Without proper care, diabetic foot ulcers and diabetes-related wound infections can also lead to amputation.
Not everyone's conditions, or the reasons behind them, are the same.


Dave Gamble's Story
The Wound Healing Center at Methodist North features two state-of-the-art hyperbaric oxygen therapy (HBO) chambers, which deliver oxygen to your tissues to speed wound healing. Dave Gamble came to us for HBO chamber treatment after he developed a side effect from radiation therapy. "After being diagnosed with cancer, I underwent surgery and radiation therapy," Gamble said. "I then developed a side effect from the radiation treatment and was referred to the Methodist North Wound Healing Center for oxygenation treatment in the hyperbaric oxygen chamber. The staff was so professional and encouraging, and their caring attitudes helped me achieve a positive outcome. I truly appreciate the Associates and physicians that worked together to help me heal."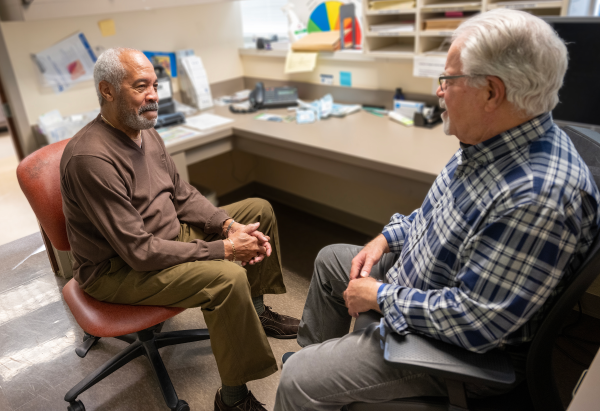 The pressure from hyperbaric oxygen helps to circulate oxygen throughout the body, kill bacteria and aid in the growth of new tissue.
We recommend annual circulation checks and encourage anyone over the age of 50, especially those who smoke or have diabetes, to make an appointment. Our team of clinical experts will perform a thorough assessment, schedule any diagnostic tests and develop an individual care plan that meets your needs.
SUBSCRIBE TO OUR BLOG
and you'll receive more health & wellness tips right in your inbox.
SUBSCRIBE NOW
About the Wound Healing Center and Limb Preservation Center at Methodist North Hospital
Located on the campus of Methodist North Hospital in the Physicians Medical Building at 3950 New Covington Pike, Suite 350, Methodist North Hospital's Wound Healing and Limb Preservation centers offer patients access to clinical experts who specialize in healing wounds and treating and preventing limb loss due to vascular diseases, such as PAD and diabetes.
Referrals are not needed. If you would like to schedule an appointment, please call 901-516-5766.