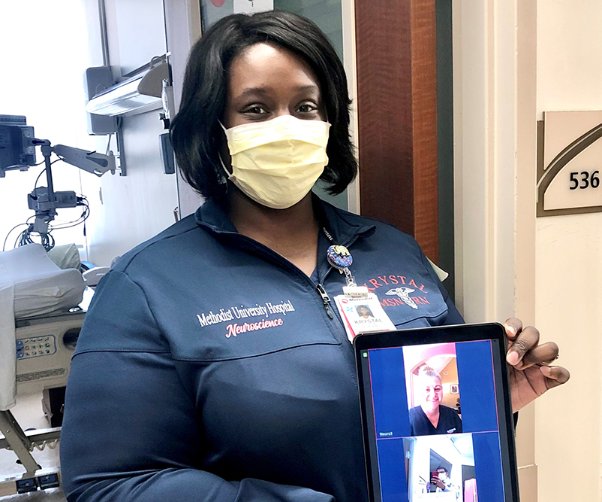 General Wellness
Telehealth services from Methodist Le Bonheur Healthcare: What is it and how does it work?
More and more patients are leveraging technology to interact with their primary care and specialty care physicians. At Methodist Le Bonheur Healthcare, our providers see patients via telehealth each day.
What is telehealth?
Telehealth capabilities allow us to provide patients access to high quality care while also limiting contact exposure for patients and caregivers alike.
Instead of an in-person visit, patients are able to connect with our healthcare providers virtually — through a video conference on a smartphone, tablet or computer.
You'll be able to see your healthcare provider and they'll be able to see you — allowing for a normal visit from the comfort of your own home.
---
What technology do I need?
It would be helpful to have a phone, tablet or computer with internet access so that your healthcare provider can fully connect with you. Most of the time, a smartphone will have the capabilities you need — and we'll certainly help you along the way if there's any trouble.
If you don't have a device that has video capabilities, you may be able to connect with your healthcare provider and receive quality care via a phone call. Just make sure to include any and all details that might help them with your treatment.
---
Who can use telehealth?
Telehealth is offered to patients of primary care practices through Methodist Medical Group and UTMP — as well as in specialty practices in behavioral health, cardiology, ENT, endocrinology, gastroenterology, rheumatology and sickle cell.
Telehealth capabilities are also offered in acute settings including the emergency department, neurology/Telestroke and infectious disease.
Certain types of patient visits lend themselves more to telehealth, such as lower respiratory symptoms that might be flu, allergy symptoms or COVID-19, and follow up visits for chronic conditions.
SUBSCRIBE TO OUR BLOG
and you'll receive more health & wellness tips right in your inbox.
SUBSCRIBE NOW
How does my visit translate to telehealth?
It differs for each specialty and case type, but we've outlined some of them below.
Physician Practices: For patients whose circumstances are best managed through a telehealth visit, for the time being, and until we are past the COVID-19 crisis, physician practices have the capacity to conduct virtual appointments, during regularly scheduled office hours, to manage conditions that can be addressed via our telehealth platform.
Minor Med: Telehealth visits allow our urgent care providers to virtually assess your medical needs while also keeping you safe. Appointments are available by calling your local Methodist Minor Medical Center. During your virtual visit, you will be able to meet with an urgent care provider to discuss any illness or injury you may have and receive the necessary care to help you get better.
TeleStroke Services: This program allows patients to be evaluated via video conference with stroke experts at the Methodist Comprehensive Stroke Center at Methodist University Hospital.
Our Neurology providers are able to provide consultations without having to travel, reducing the time to treatment and reduce moving patients around the city, unless necessary.
We also offer this service to facilities outside our system.
Behavioral Health: Tele-behavioral health consults are available for patients of all Methodist physician practices. Patients may meet with a psychologist or licensed clinical social worker for 15-30 minute virtual sessions. Also, the Behavioral Health Mobile Crisis Team can conduct crisis assessments remotely, allowing them to cover more opportunities with reduced COVID exposure risks.
St. Jude: We offer remote consultation from our St. Jude physicians to children that need their services in Le Bonheur, without them having to travel or expose some of our most fragile patients.
Inpatient Rounding: It can now be done for COVID-19 patients outside the room, so that both patient and providers can achieve additional protection without reducing the level of care and reduce PPE usage.
Inpatient Remote Consulting Services: This service is available via telehealth from our external partners, so that we can maximize available providers without exposing patients and providers, while providing a high quality of care.
---
What do I need to do before my telehealth visit?
Treat this like a normal appointment with your healthcare provider. Be prepared to discuss any and all symptoms or issues you're experiencing — and make sure to ask questions if you have any.
---
Is my telehealth visit covered by insurance?
In light of the COVID-19 outbreak, telehealth services are covered by most insurance companies.
---
How do I get started?
If you already had an upcoming visit scheduled, one of our staff members may reach out to reschedule an in-person visit and/or discuss setting up a telehealth visit.
To find a primary care physician, visit methodisthealth.org/primarycare.
Still Have Questions About Your Overall Health?
Schedule an appointment with one of our primary care physicians.