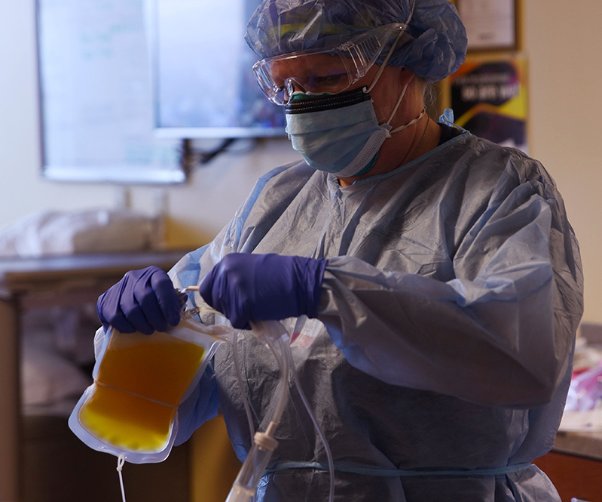 Convalescent plasma and COVID-19: Donation, treatment, FAQs and more
Methodist Le Bonheur Healthcare is participating in Mayo Clinic's Expanded Access Protocol for Convalescent Plasma Program for treatment of patients with COVID-19.
For additional COVID-19 content from Your Health, visit our Coronavirus Resource Center.
What is convalescent plasma?
Convalescent plasma is the liquid part of the blood that is collected from people who have recovered from COVID-19.
Researchers believe receiving that plasma may help current COVID-19 patients with advanced illness. The antibodies in the plasma may have the ability to help patients fight the virus and recover more quickly.
---
How is MLH using convalescent plasma?
MLH is studying the effects of using plasma from recovered COVID-19 patients to treat current COVID-19 patients in an effort to find an effective treatment, which could be critical in helping patients with underlying conditions.
On April 21, a fully recovered COVID-19 patient was the first to donate convalescent plasma to the MLH and Mayo Clinic program. That patient was Dr. Daniel Wakefield, a 30-year-old radiation oncology resident in Memphis.
Wakefield is now fully recovered and hopes his story will encourage other people to step forward to donate convalescent plasma. Read more about his journey as a COVID-19 patient, the decision to donate plasma and what the donation process was like.
SUBSCRIBE TO OUR BLOG
and you'll receive more health & wellness tips right in your inbox.
SUBSCRIBE NOW
Am I eligible to donate convalescent plasma?
People interested in donating convalescent plasma to help current COVID-19 patients must have had a prior, verified diagnosis of COVID-19, be symptom-free and fully recovered for at least 14 days at the time of donation and have a negative nasal swab test if recovery has been less than 28 days.
---
How do I donate?
Fully recovered COVID-19 patients can visit www.vitalant.org/COVIDfree for further instructions on donating plasma.
---
Blood donations needed in our community
We also have a critical need for blood donations in our community. One pint of blood can save up to three lives. Click here to learn more or become a donor.
---
The American Red Cross has created an in-depth Question and Answer section. Learn more about convalescent plasma on their website.

Coronavirus Resource Center
For updates from MLH facilities, community resources, COVID-19 FAQs and much more, visit our Coronavirus Resource Center