If it was warmer, 74-year-old Peter Dangerfield of Cherokee, Alabama, said he'd be water skiing on Pickwick Lake. He said he's feeling great following an atrial fibrillation (AFib) implant procedure he had at Methodist Le Bonheur Germantown Hospital.
On January 7, Dangerfield became the first patient in the region to receive the WATCHMAN FLX heart implant device. This tiny implant, about the size of a quarter, helps eliminate the need to take blood thinner medication and works to prevent strokes in AFib patients.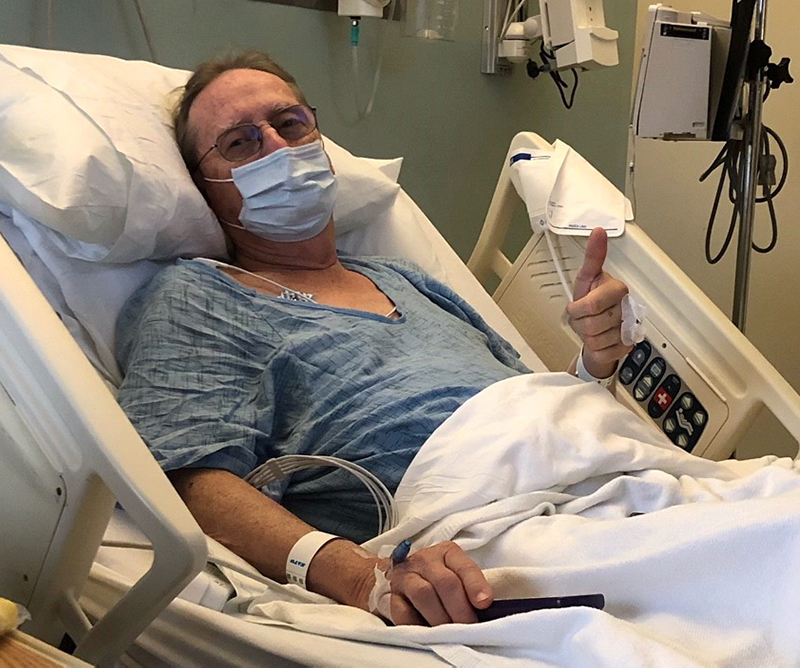 Dr. Mehul Patel, director of Structural Heart Disease and Hybrid Lab with Methodist Le Bonheur Healthcare, along with the medical team at Sutherland Cardiology Clinic of the Methodist Healthcare family, performed the procedure.
Dangerfield received a pacemaker and a stent several years ago and is also a bladder cancer survivor. Because of the blood thinner medication he was on, he had to live with the constant fear of any unexpected bleeding. Now, without that added worry, he hopes to be more active with no restrictions on what we can do, including water skiing.
What is the WATCHMAN?
WATCHMAN is a heart device that's implanted in a minimally invasive procedure. It's available for people with atrial fibrillation not caused by a heart valve problem (also known as non-valvuar AFib) who need an alternative to blood thinners.
Many people with non-valvular AFib face a lifetime of blood thinners and worries about issues like unexpected bleeds and falls. With WATCHMAN, more than 150,000 people have left blood thinners behind, and Dr. Patel has performed just shy of 400 of the implants himself.
---
The first generation WATCHMAN
The first generation device, simply called WATCHMAN, is now 15 years old with well-established safety and efficacy. Information on the first generation procedure performed in early 2018 is available here.
---
The second generation WATCHMAN FLX
The new second-generation device, the FLX, offers even more to improve procedural safety. It also broadens the population of patients who can receive it, including those with challenging anatomies ranging from small to large atrial appendages. In the past, such patients would not be eligible and would have to remain on blood thinner medication.
SUBSCRIBE TO OUR BLOG
and you'll receive more health & wellness tips right in your inbox.
SUBSCRIBE NOW
How WATCHMAN works
To understand how WATCHMAN works, it's important to know more about the connection between AFib and stroke.
AFib affects the heart's ability to pump blood normally. This can cause blood to pool in an area of the heart called the left atrial appendage, or LAA. There, blood cells can stick together and form a clot. When a blood clot escapes from the LAA, it could easily travel to the brain, causing a stroke.
In patients with AFib not caused by a heart valve problem, more than 90% of stroke-causing clots that come from the heart are formed in the LAA. That's why closing off this part of the heart is an effective way to reduce stroke risk.
The WATCHMAN implant looks like a tiny parachute and fits right into the LAA. It's designed to permanently close it off and keep those blood clots from escaping. WATCHMAN is about the size of a quarter and made from very light and compact materials commonly used in many other medical implants.
---
The WATCHMAN procedure and after-care
WATCHMAN is implanted into the heart in a one-time procedure. It's a permanent device that doesn't have to be replaced and can't be seen outside the body.
To implant WATCHMAN, the doctor makes a very small cut in the upper leg and inserts a narrow tube, as done in a standard stent procedure. The doctor then guides WATCHMAN into the left atrial appendage (LAA) of the heart. The procedure is done under general anesthesia and takes about an hour. Patients commonly stay in the hospital overnight and leave the next day. For some patients, we also do same day discharge to minimize their exposure to COVID in this pandemic.
Following the WATCHMAN procedure, the patient takes blood thinners for 45 days or until the LAA is permanently closed off. During this time, heart tissue will grow over the implant to form a barrier against blood clots. The doctor monitors this process by taking pictures of the heart to see when the patient can stop taking the blood thinner. The doctor then prescribes a blood thinner medication and aspirin to take for 6 months. After that, the patient continues to take aspirin on an ongoing basis. A very small number of patients may need to keep taking blood thinners long term.
Is WATCHMAN right for you?
To know if WATCHMAN is right for you, please consult with your physician. Contact Sutherland Cardiology Clinic to find a cardiologist who offers WATCHMAN or to schedule an appointment.